TESTIMONIALS
Success Stories
Mike Moreton, Hockley, Essex
In July 2006 at around 20 stone, I found it hard to walk up my own stairs without getting breathless. At this point I decided that I needed to do something. However, I could not do it alone, I had tried before and decided to contact Jez to give me help and advice.. We decided that we would start with brisk 30 minute walks for a start. Golly, how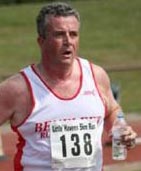 unfit i was. I was more than breathless after the first few walks. After a short time, they got easier and I got to know more about Jez and what he was about. I was intrigued on how any one person could run a triathlon. In my ignorance i asked if it was over 3 days. He laughed. The more we spoke the more interested in getting fit I became. Then, out of the blue, I asked about running the London Marathon. He replied 'anyone can run it, so long as they do the training'. Ok I said, train me. He did. He arranged me a running plan, and we met once each week to do the dreaded long runs. December 2006 I did my first 10 mile run. In 4 months I would be doing 26.2!!!! Yelp. No need to worry though, Jez had it all under control. I actually finished the marathon in April 2007. One of the hottest on record and due to this I had to walk a bit of the way to ensure I did finish. I did it in 7hours. Remarkable achievement in 6 months. From sofa loafer to marathon runner in 6 months. I have since carried on running, albeit shorter distances, and am no longer running at 12 - 13 minutes per mile, but an impressive 9.5 minutes per mile over 5 to 6 miles.

Jez is remarkable. His team helped me tremendously, and I owe him a great deal. My fitness and health have improved dramatically. If you need help, dont call Ghostbusters, but Jez, You wont regret it.
Sue Simpson, Head of PE, Southend High School for Girls
Jez has been an inspirational motivator and coach to the girls he trains at Southend High School. He has helped to prepare them for major championships and his belief in them is reflected in their outstanding results.


The school is currently National Junior Athletics Champions. The school link with Jez is an important one as it both enables the gifted and talented girls to train for their specific events; and Jez encourages the girls who just enjoy running to realise the benefits it has in helping them to lead a healthy lifestyle.

Jez is just like the "Pied Piper" as he runs along Southend Seafront with the girls from the high school, in their green polo tops in tow!
Oliver Hughes
I contacted Jez initially to lose weight and regain my fitness following years of avoiding exercise. I'm not a fan of gyms and my job doesn't afford me much time away from my desk so Jez designed the program around road
running and easy to follow exercises I could do at home. Having built up my fitness levels and losing 4 stone in weight I decided to enter the London Marathon 2007. Jez sent weekly training schedules, each week building up distance and included hill and fahrlek training. Any questions I had were answered promptly and the training schedules were sent in plenty of time for me to plan my week. I completed the marathon in 4hrs 47mins.

I am still training with Jez and he has now written me a fresh program to help me improve my speed over short distances and improve my core strength. In 2008 I completed the marathon again knocking 30 mins of my time and I am now determined to break 4 hours!

I found Jez to be perfect for my lifestyle and fitness needs. It has helped me build confidence in my abilities and actually enjoy the exercise.
Lyn Long, Leigh on Sea, Essex
For my 40th birthday I decided to treat myself to a day at a local spa. It was there that I read an article about Jez and thought he would be just the person to get me fit for my next decade! When I embarked on this journey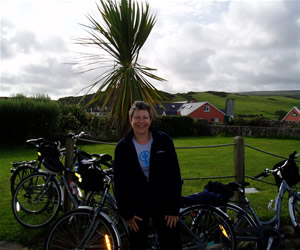 of discovery I had no idea that it would quite literally change my life. I was living an extremely unhealthy lifestyle and unable to run more than a few minutes when we started. It wasn't long before I was running 5 Km and then 10 Km and a half marathon. I lost 4 stone in weight along the way but more importantly gained overall strength & fitness and a realisation than exercising can be fun.

Training is never dull or boring, Jez always has some new form of torture to help move your fitness to the next level. We achieved so much more together than I could have done on my own. The support and encouragement he provides is the added ingredient you need to achieve your own fitness goals.